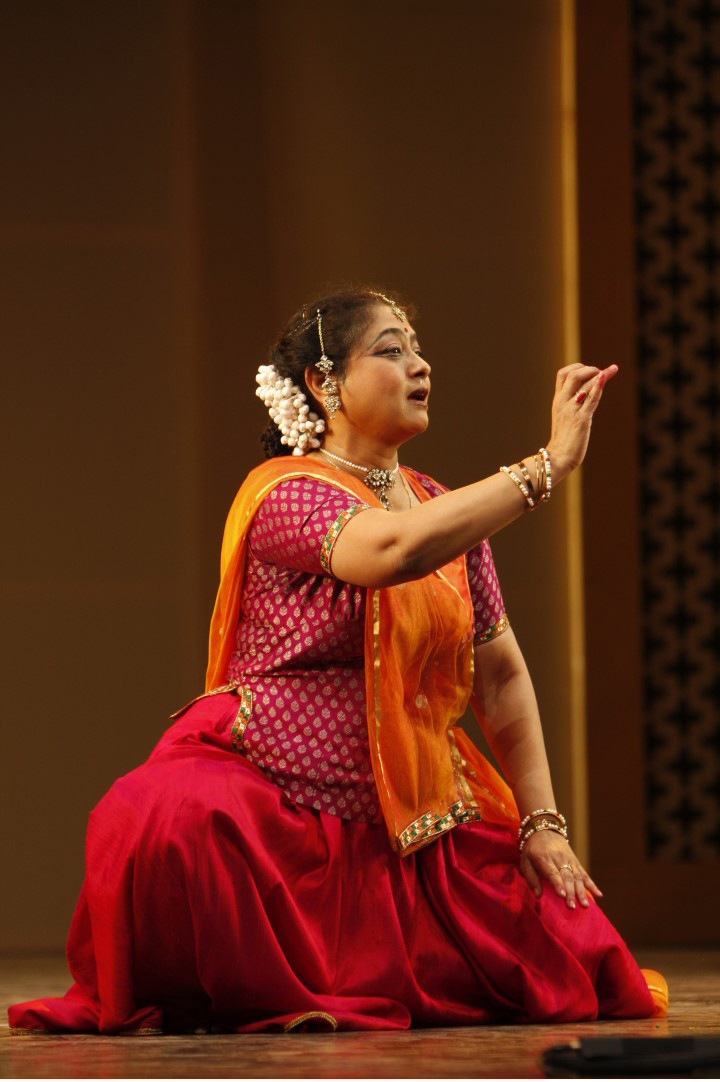 "Choreography for me is like donning a new dress. Like a snake, shedding its skin and finding itself in a new body. Every new work is a re birth that allows me to feel I am starting life afresh and each time I walk into a new world"
DANCE is my language, friend, identity, reflection, strength, medium and my consciousness.
Kathak's Improvisational character draws me. Every moment of the dance has its own innate beauty and enjoyment, speed, rhythm, grace, expression. It reflects all the colours of life.
Most people dream and then there are the few who give concrete shape to their dreams. In 1984 Vaswati Misra, an exponent of Kathak, choreographer and teacher started to give shape to her dream. With no financial support, but with the good wishes of friends and family she founded Dhwani, a center for the performing arts. She chose the name with care. Commonly taken to mean sound, for her, the meaning was definitely "In which the implied is more striking than the expressed". The meaning reflected perfectly her approach to both choreography and performance.
Vaswati's love for dance began as a young child when she watched her older sister Saswati learning Kathak. Vaswati herself joined the prestigious school of dance, Kathak Kendra, at the age of 7. Here she received training in this dance form, first under the tutelage of Smt Reba Vidyarthi and then had the good fortune to be groomed by the great Kathak Maestro Pandit Birju Maharaj. An immensely talented dancer, by the age of 10 Vaswati was already performing on stage. She played the leading role of Sita, in the production Katha Raghunath Ki, choreographed & directed by Shri Birju Maharaj, at the age of fourteen.
It was at the Kathak Kendra that Vaswati met, Krishan Mohan Mishra , the eldest son of Kathak Maestro Pandit Shambhu Maharaj and cousin of Pandit Birju Maharaj. Marriage followed and Vaswati, then only 18, took the first step that would lead many years later, to the founding of Dhwani.
Performing both as a soloist as well as with her husband, dancer, Krishan Mohan Mishra, she was acclaimed both for her command over the technique of the dance form as well as her expressive qualities.
In 1979 Smt Sumitra Charat Ram, offered her the post of teacher, at her school, the Shriram Bharatiya Kala Kendra. It was here that she started to evolve a teaching methodology that was uniquely hers and also for the first time started to choreograph. As guest choreographer for the Shriram Bharatiya Kala Kendra Repertory she soon developed an intensely original style.
The works she choreographed for them includes:
Varshaa Ritu
Alaapini
Antarhitatvam
Purushaarth
The Last Leaf
Krishnavataar
Mahadev
Aakaar
Bandish
Shaan-e-Mughal
Eventually feeling the need to find a platform to present her choreography, the way she wanted, she founded Dhwani……
Vaswati Misra sets the stage on fire as she performs Kathak
The Pioneer
In 1984 Vaswati Misra, an exponent of Kathak, choreographer, and teacher embarked on the journey to re-establish the cult of Kathak and take it back to its glorious pedestal.– View Full Article
India Heritage desk
It was after all by Guru Vaswati Misra, who with more than forty years of teaching experience in the field, is known to be an awesome teacher, besides being a gifted performer and choreographer – View Full Article
Narthaki
VASWATI MISRA,'may be the daughter-in-law of Pandit Shambhu Maharaj. But that is not her only claim to fame – View Full Article
HT City
Vaswati Misra conveyed poetic elegance through Raha at the Kathak Mahotsav in New Delhi recently. View Full Article
Deccan Herald
Striking a balance in dance and literature HT Bhopal
Concepts like Bhaav bataana (the expression of a mood, seated on stage) Padhant, (where the mood and feeling inherent in mnemonic syllables are explored) – View Full Article  Seher Now