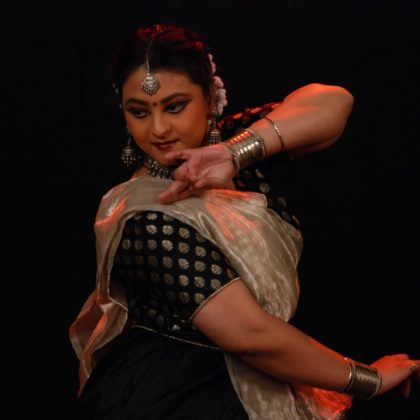 Ipshita grand daughter of the late Padma Shri Shambhu Maharaj is a dancer worthy of the art form her family has served for seven generations. She has had the immense good fortune of being groomed by her mother, the very well known Kathak Dancer and Choreographer Smt. Vaswati Misra. She is also blessed to have received excellent guidance from her uncle the Legendary Pandit Birju Maharaj, her illustrious father Pt. Krishan Mohan Mishra and aunt Smt. Saswati Sen.
After receiving her diploma in Kathak from Kathak Kendra, New Delhi, she has completed her Nipun at Pt. Shambhu Maharaj Kathak Academy under the tutelage of Smt. Vaswati Misra. Ipshita has performed extensively with her parents & Pt. Birju Maharaj.
She has been featured prominently as a young dancer in the first issue of the dance journal called 'Attendence'. The poster Archies stated her as "The promising daughter of a famous mother". She has the honour of receiving 'Shringar Mani' in the Kal-Ke-Kalakar Sammelan.
Today, she is a permanent member of Dhwani Repertory and an eminent teacher of Pt. Shambhu Maharaj Kathak Academy, where she continues to hone her skills in the dance form that she is so passionate about. In the short span Ipshita has been fortunate enough to travel to US, Canada, Japan, South Africa, South Korea, New Zealand, Indonesia, Bangladesh & entire Europe.