DANIEL FREDDY
Guru & Assistant Director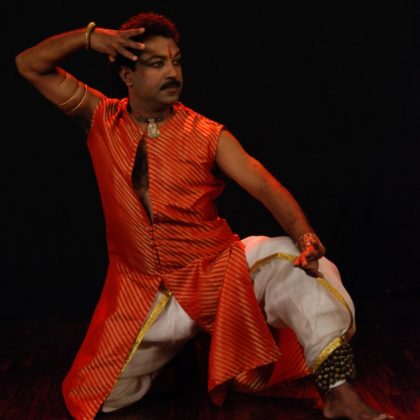 Daniel Freddy is a promising dancer who pursues with passion any activity he is involved in. Eager and earnestly involved Daniel has acquired a commendable grasp of technical nuances and high proficiency in Nritta and Abhinaya sides of not only Kathak but also in the dance form Chhau. He had the opportunity to study and perform Creative and Modern Dance as well. He has a tremendous command on the Indian Folk Dances.
He has been groomed in Kathak initially by Shri Rajendra Gangani then he had the privilege of learning under Kathak Doyen Pt. Birju Mahahraj & for the past twenty years he has been groomed by Smt. Vaswati Misra. He received his training in Chhau under Shri Alok Niranjan Bisoi.
Performing widely as a member Shriram Bharatiya Kala Kendra, Nattya Ballet Centre, Kathak Kendra and Dhwani, Daniel's performance record has become quite rich. His performance in 'Saptak', Bhopal, Harihar Utsav, 'Kalka Bindadin Mahotsava', New Delhi are praise worthy. As a along with his guru as well as soloist he has performed in all the major festivals in India as well and abroad. To name of few Khajuraho Dance Festival, Chakradhar Samaroha, Baba Allaudin Khan Sangit Samaroh, Orchha Mahotsava, Nishagandhi Festival, Champaner Festival etc. Outside the country he has performed in Germany, Poland, Slovak, Slovenia, Croatia, France, Italy, Hungary, Ireland, West Indies and Japan, South Korea, Canada, U.S.A, Morocco, New Zealand. He was one of the few dancers chosen to participate in the American Dance workshop organized by Sangeet Natak Akademi.
Naturally endowed and vigoursly trained Daniel has made a convincing impression in his choreographic potential also. Daniel has choreographed – Raam Kaavya, Dharohar, Khele Hum Ji Jaan Se, Joota Mil Gaya, Mili Mauj Masti, Kabir, Malgudi Days, Kaa Gati hi, Alaadin, Aakhir Kyun, Jesus, Sadak Ke Us Paar, Pinochhio His choreographed item Mukhota Vichitra for the Republic Day Folk Dance Festival, won the second prize. He has also worked with the specially abled children from Nai Disha & Tamanna.